There are two really good ways to continually improve your officiating skills. They've been around for many years and keep proving to be effective today as well.
The first one is what we might call Self-Monitoring. In other words, on a continual basis from the time you arrive at the field – through the game(s)…'till the moment you leave, observe your presence & participation as an Assistant Referee or Referee 'out in the middle' on a " move by move " basis.  What I mean by that is, keep assessing yourself within the situations that you are in and in prepping yourself for what you see coming as your probable next move(s).  Are my signals clear, crisp, not to slow & not too fast? How's my positioning….am I where I'm supposed to be in order to make the right calls for Offside, for fouls / misconducts, restarts like throw ins, goal kicks, corner kicks, goal scored, substitutions; am I patrolling the Touchline or On / Off the Diagonal Run properly….And, am I making timely eye contact the nanosecond before signaling.  We don't want to do this to 'beat ourselves up' but to create a smooth & efficient delivery of officiating skills from which all players, coaches, parents, other game officials & yourself can enjoy and benefit.
The second one…As you succeed in Self-Monitoring, questions may arise that you can answer in the 30 minutes prior to Kick Off( next game ), at the ½ time break and end of game….or….on the phone or via email later that day ….BTW, Referencing the Guide To Procedures from time to time is a great resource that can keep you current on all game mechanics.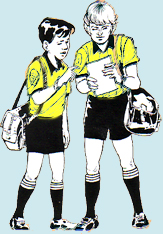 Learning things is a process that sometimes happens at its own pace….i.e. you might be riding your bike, or at dinner or on your way to work or school when resolution of a game situation requires you to ask a question or two of your favorite local Referee resource. You can ask questions ' anonymously  ,' without mentioning names but focusing on the situation(s) under discussion 'cause you want to get it right and have the right positioning and/or decision making tweaked in your mind….putting you in the best position to get better again at what you love to do out there in the game. Sometimes those discussions will show you that you actually made the right decision / were in the right location to make the call… an important reinforcement that says, 'continue the way you are officiating ' Just keep an open mind to pay attention to comments from other officials who just might have had a more accurate 'read' of the situation…It's also a good idea to thank them for their support and comments. They mean well and simply want you to benefit from what they have to say.
Tommy O'Brien (Author, "It's Your Call!" & "7 Ways to Upgrade Entry Level Referee Training & Officiating") has a 20 year career as a Referee, Instructor, Coach, and Internet Clinicia
n.  You can learn more about officiating the game by going to his website: SoccerRefereeMentors.com.