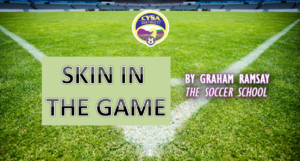 How much commitment have youngsters had to play when adults control almost their entire environment?  What do we want them to take away from this experience?
At present it appears to be a babysitting exercise rather than an educational experience. Parents do all the work to the extremes of carrying their bags. Why can't they be more involved in the process of setting up the practice? My point being is that the parent becomes the enabler and so divorces players from the game and so learning how to play.
Why can't even U.8's share in the experience of setting up the pitch to play, testing ball pressures, etc. and as they grow older & wiser to appoint captains, letting them lead.
From U.12's on, especially in junior schools have players select teams and maybe create their own inter-mural league. Encourage them to get soccer ideas off U-Tube and books out of the library. Like many youngsters who get turned on to a great game you have no idea where their energies will lead them. This is where real players come from.
I hear the cry that's too much for youngsters to comprehend. I disagree as youngsters the world over do it. They may need limited help but there are 100's of examples of children in rural African with zero finance invent their "Banana Leaf League" to youngsters in England creating leagues & teams. Often they do a better job than adults as they can take ownership of "their league."
Such commitment creates "real players" and a lifelong affair with a great sport. We want & need such players as that's where real talent will come from. If nothing else they have made lifelong friendships and that money can never buy. We desperately need their "SKIN IN THE GAME."
If you want help please do not hesitate to contact me and I would enjoy sharing these ideas.  ramsaysoccer@yahoo.com