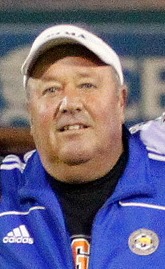 Hey my friends in D7… I would like to say that the future is looking better as we move forward. I try not to lie to myself in the way of resolutions!! So I have some positive things in the works as I have asked our committee to come up with things that they felt were causing issues in the playing program this past fall season and trust me when I say that they hold everyone's concerns at the highest level.
I feel real strong this year that the meeting I will have with the city of Fresno's new mayor elect will allow us to obtain local parks for our youth.
I also have some ideas in the way of referees and a mentor program to address the decline in our youth referee program…
We will be meeting in early January to address all of your concerns, but some go unknown so if you have any ideas our committee is always open to the membership's ideas. So please feel free to send them to the district office.
Again Thank You for our 2016 season and your input … But be aware that a revelation is in the works!!!?
Diego Haro , D-7 Playing Program – Chairman