Notes from the United Kingdom -YES- Home of real football, rugby and cricket.  

Managed to get a personal tour of a English Football Stadium, watched a football match and talked to the Chairman of the Football Club Board of Directors..
Guess what his and my team lost, oh yes we both agreed we did not like the referee. He allowed a team to act injured and in the second half added 8 minutes of extra time, plenty of time for more rolling around on the ground..
End result we lost 2-0 and all the fans lost because the game ended up not flowing.
As we move to the new substitution rule from US Soccer I hope we do not ruin our children's game.  Substitute when necessary to give kids playing time and please let the game flow..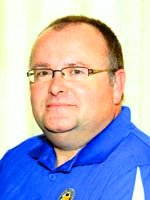 John Hodgson
D7 Commissioner