It Creates An Opportunity For Open Discussion!
I just want to say that amongst the trials and tribulations of our membership, we are as D7 the best in the world's game!! At the BOD meeting I was moved and reminded by our Recreational Director that we are really the backbone of this state.  We work as the membership we are because we always work through any of the many situations our state throws at us.
I just want you all to know that we are doing the right things!!  Some may think that we are behind the rest of the membership but we have more constructive programs!!
For those that think we are floundering, please understand that the competitive nature that the everyday world burdens our membership which is definitely a challenge… But please understand that we, as I was so soulfully reminded, 'The best at what we do for our local membership'. So it is my
hope and prayer that we look forward to the future as nothing other than a golden opportunity make us even stronger than we are now.
The 15% that have issues please remember that you are not here for anything other than our children!!
I've always admired Henry Kissinger because he always worried about the people and the challenges put before him… Thank you for all of your support to the membership, because like a wise man reminded me, "We are doing the right thing!!!"  And that's what makes us the best…!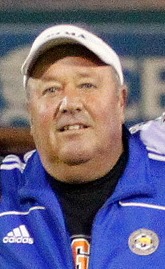 At your service,
Diego B. Haro..
Playing League Chairman