This year we will be hosting a "Hosting Leagues Presidents" round table breakfast to discuss spring league policies and procedures required by D7.
This meeting was originally announced as a "mandatory" meeting but that word "Mandatory" I really don't like!!! I think that we all are volunteers and we should want to participate in your Districts success!! So I believe that the meeting will help to get everyone on the same page.
This meeting will be held on Saturday February 18th at 9:30-11:30, at the District-7 office located at: 4285 N. First, St. Fresno, CA.  If the President is unable to join us please send a representative from your League.
Later that day we will be hosting a "Referee Assignors Lunch" from 12:30-2:30  at the same location for the assignors of our hosting Leagues.  W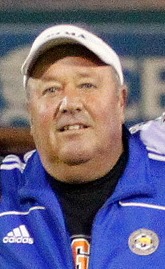 e will go over policies and procedures for D7and discuss possible changes for the future of our referees.
So hosting Leagues please mark your calendars, and thanks for your continued support of our children!!! It You Truly Make a Difference!
Diego Haro , D-7 Playing Program – Chairman