I would like to take this opportunity to give our Kids Soccer Educators a big round of applause!!! I know from personal experience and years of watching our kids develop into some of the best that they can be. From a personal perspective, those kids that develop to become great players are those that learned to love the Worlds Game at an early age, and that happened by them learning the game on their own. I've witnessed many children that figured out that it is just fun and not in a controlled environment make the players more confident.
I strongly believe to get them to the next level we need to mold that confidence and I firmly believe it starts with our coaches having the confidence to continue the child's love that they have developed. The only way that this can happen is our Coaches have to have the knowledge of what it takes to grow that love of the game.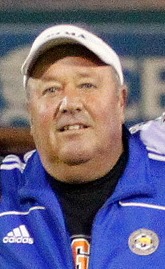 As a coach that has coached many different levels of play, I think my best times were with my own kids and their friends, I know the education that I received from CYSA and other organizations as well as Koach Karl and many of his colleagues got me to understand what it takes to make sure that as coaches we have to look at all players and ask ourselves, "What can I do to keep these kids in front of me twice a week loving what they have initially learned on their own?"
 ATTENDED a DISTRICT-7 "F" or "E" COURSE & LEARN:
That it takes time to learn anything and everything.
How to instill the 'Love of the Game' into each player
What should be coached, when, for how long and how often.
To run ability appropriate rather than age appropriate training session.
To recognize that proper training and fair competition are essential to player development & success.
That by attending a District-7 "F" or "E" Coaching Course (in your community) you will learn more about yourself and your players!
I hope that ALL coaches get this training Because It Works!
 Send your questions about these courses to: cysad7office@gmail.com